Recharge Earth Hackathon
Join the Recharge Earth Hackathon!
It' s time! Time to accelerate the energy transition. The energy transition is one of the biggest and most urgent social challenges of our time. Together we have all the know-how and expertise to make concrete steps. Together, we can make a real impact, by laying the foundation for tomorrow's energy system today. That is why Recharge Earth is looking for creative solutions to meet this immense challenge and to accelerate the energy transition.
We need your help to achieve this! Join us and get in charge @ Recharge Earth.
On 8 & 9 September, during the Recharge Earth congress, we are organising a hackathon for students. Together with a team you will work on one of the three practical is cases that can accelerate the energy transition.
What are you going to do?
With 60 students of TU Delft, Erasmus University Rotterdam and Hogeschool Rotterdam you will work in multidisciplinary teams of 4 students on one of the three practical cases (The cases are provided by three partners of Recharge Earth: Croonwolter&dros, municipality of Rotterdam/Deltalinqs and Invest-NL);
You will work two days of +/- 8 hours non-stop on one of the cases;
Beforehand, there is a pleasant introduction to the other students and the opportunity to ask questions about the case;
Together with your team, you present your solution in an appealing way, via a presentation, visualisation and/or mock-up of the proposed solution.
The pitches will be judged on 3 criteria: (1) content/novelty of the solution, (2) creativity and presentation (look & feel) and (3) social impact. The winners per issue (3 groups) will get the opportunity to pitch their solution in the plenary conference programme on day 2, where the winner will be chosen.
Program
30 August: Kick-off
On 30 August, starting at 17.30 hours, there will be a live kick-off in Rotterdam. While enjoying a nice snack and drink we will tell you everything about the hackathon and the assignments. Of course you can also meet your team there! Online participation in the kick-off is also possible.
8 September: Day 1
From 08.30 onwards you are welcomed in the brand new Rotterdam Ahoy Convention Centre. You and your team will set to work on one of the three assignments! Of course, a tasty lunch and drinks will be provided.
9 September: Day 2
On Thursday 9 September, you start again at 8.30 am to continue working on the assignment. At 14.00h the semi-finals will take place and at 15.30h the 3 finalists will be announced who will compete on the main stage for the title 'winner hackathon Recharge Earth 2021'!
What's in it for you?
You will be contributing to one of the biggest challenges of our time and you will be working with other students on an interesting issue. You will also meet live in a fun and inspiring environment.
The Recharge Earth congress is supported by renowned partners such as Deloitte, the municipality of Rotterdam, Croonwolter&dros, Eneco, ABN AMRO, Stedin, Invest-NL, Solarfields and Florijn. This is your chance to get in touch with these companies!
But that is not all! You can also win cool prizes if you make it to the top three of the hackathon. The winners get tickets for the concert of Chef'Special in Rotterdam Ahoy and the runners-up get tickets to play a virtual reality game in the brand new VR Arcade in Ahoy.
Enough reasons to participate!
Who is it for?
Anyone who enjoys a challenge and wants to make a positive impact in accelerating the energy transition! You don't have to have experience with hackathons to participate. Join us to hack a cool concept together!
Please note that there is room for a maximum of 60 students and that you are not automatically registered when you register. There will be a selection round.
Are you enthusiastic, do you like thinking in solutions and do you want to be part of speeding up the energy transition? Register before the 27th of August 2021 and sign up via the form below!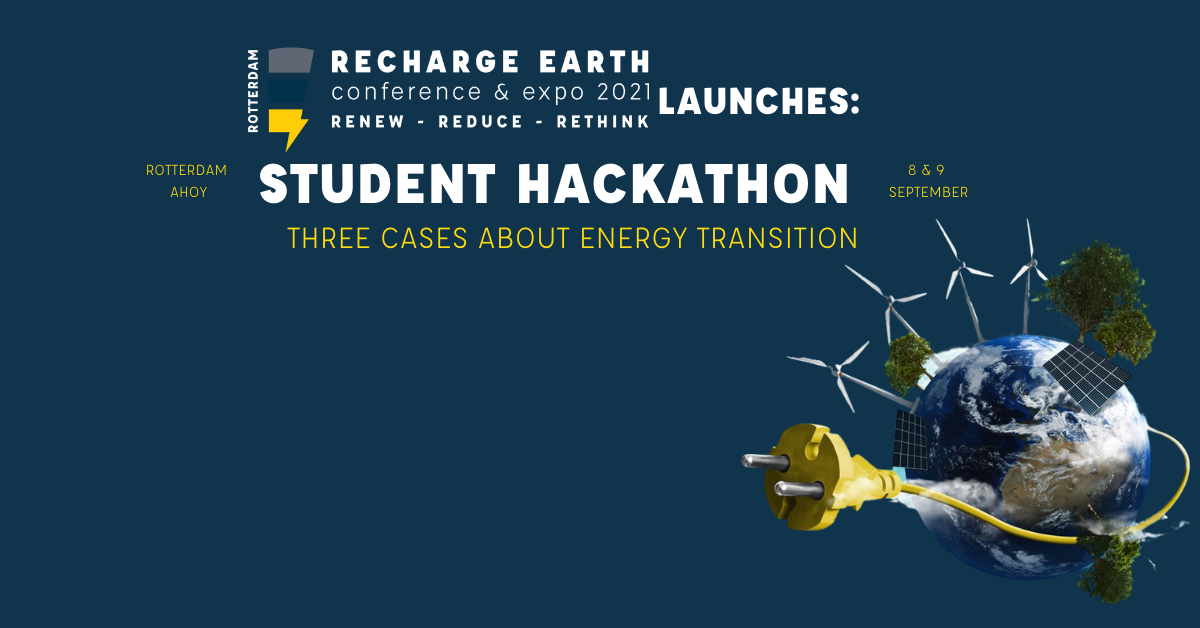 Fill in the form below to register!